d-flight S.p.A. is a company belonging to ENAV GROUP, the Italian company responsible for management and control of civil air traffic in Italy. d-flight pursues the development and provision of low-altitude air traffic management services for remotely piloted aircraft (APR) and all other types of aircraft that fall into the unmanned aerial vehicles (UAV) category and any activity connected to them.
The company is owned by an industrial partner selected through a public tender procedure, set up by Leonardo S.p.A. and Telespazio S.p.A.. Thanks to the collaboration with ENAC, the only Authority for technical regulation, certification, supervision and control in the civil aviation sector in Italy, has developed the the d-flight services portal for the management of drones and their use, which makes available to users:
the registration of drones in the Italian database and the assignment of a unique identification code for each of them
the retrieval of useful information to fly with drones safely and in compliance with current regulations
Services
If you're a drone enthusiast, being a private user or a commercial operator, d-flight is the site to start from. If you are a commercial operator, please request the access credentials to obtain the experimental services:
to register your drones
to receive the identification codes that have to be applied to your drones before flying
to check the flight rules to which you must comply in order to fly safely and in compliance with current regulations
to always be up to date on the world of drones
Mission
ENAV, with d-flight, is at the edge of the implementation of Italian U-Space, the portion of airspace falling below 150m and considered as the key element for safely operating drones in all kind of scenarios and missions. U-Space services evolve in parallel as the technical capabilities of drones increase and guarantee advanced ways of interacting with all kind of vehicles, manned and unmanned, through digital data exchanges.
In line with what has been developed and proposed by the European Commission and the Sesar JU with the U-SPACE Blueprint document: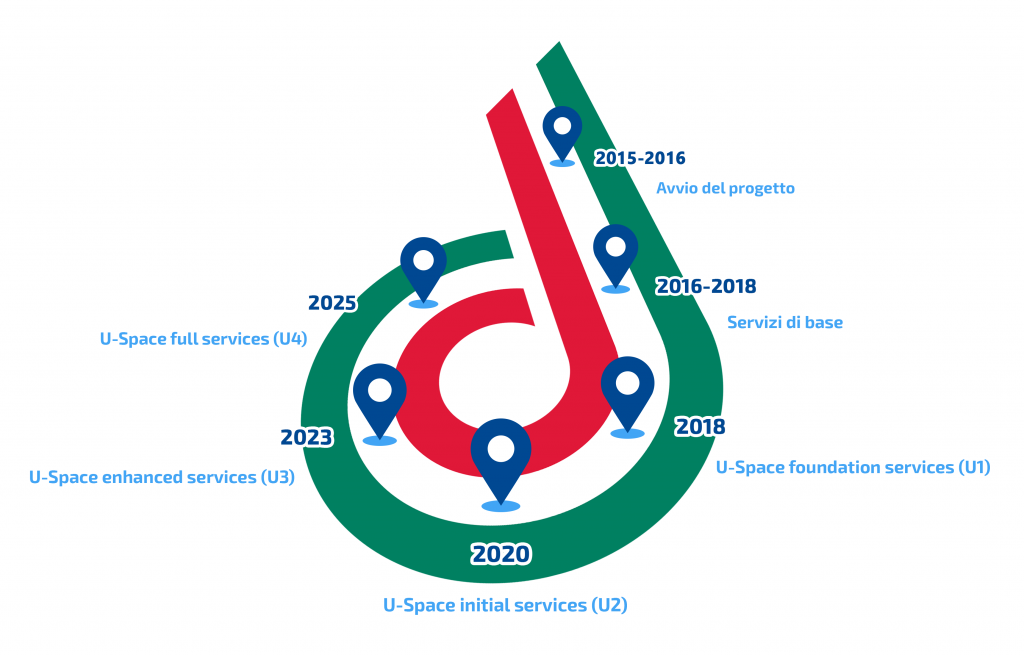 🠇 2015-2016 Start of the project with the definition of the objectives, the scope of application, the definition of management and the signing of the collaboration agreement with ENAC.
🠇 2016-2018 Base services: information, e-registration, identification and visualization of the No Fly Zones; it's the birth of d-flight.
🠇 2018 U-Space foundation services: (U1) e-registration, e-identification and geofencing.
🠇 2020 U-Space initial services (U2): support for the management of drone operations: flight planning, flight approval, location, dynamic airspace information and procedural interfaces with air traffic control.
🠇 2023 U-Space enhanced services (U3): support for more complex operations in densely populated areas, including capacity management and assistance for conflict detection.
🠇 2025 U-Space full services (U4): integration of interfaces with aviation with crew, and implementation of new additional services, based on a very high level of automation, connectivity and digitization.
Especially from 2016 d-flight pursues the creation of a highly automated service, integrated with geo-referencing and localization systems.
Main features:
Registration and identification
It allows the registration of the drone in the Italian database and the assignment of a unique identification code.
Planning
Allows users to safely schedule their missions according to static and dynamic geo-referential information, verification of constraints, airspace occupations, 4D weather forecasts etc. The system supports the user in complying with the applicable flight regulations for the type of mission according to the area concerned.
Monitoring
It controls all cooperative drones flights in real time, interacting with users by sending alerts in case of non-compliance.
Auto-separation
Supports users in maintaining the separation between drones, with fixed and mobile obstacles and in respect of static and dynamic restricted areas (geo-fence).
Recording and playback
Provides users and authorities with a permanent archive of all relevant activities, with the possibility of replaying flight activities.
d-flight represents the prerequisite for the removal of the regulatory limits currently in force that prevent autonomous flight and "Beyond Line of Sight (BLOS)", is therefore the indispensable prodrome for the opening of new services based on the intensive use of (small) drones.
Vision
Different services can be created, invented or redesigned, based on the use of drones and their ability to carry out air missions independently. Possible applications include numerous sectors and areas of action such as: public order management, urban security, logistics, agriculture, monitoring of weather conditions, media / entertainment (aerial photographs, coverage of large events, etc.), for the monitoring of infrastructures and networks (like gas and oil pipelines, telco networks, railway networks, etc.) as well as in the survey and control of large or complex territories to be reached (borders, flooded areas, etc.).
Our Vision is a world in which drones are common objects, fully accepted in the daily life of all citizens, even in urban environments, used safely to make services more efficient, innovative, economic and sustainable.
For this reason we intend to work, in collaboration with the national authorities, to accelerate the development and realization of technologies, infrastructures and services capable of making autonomous drone flight possible in any permitted operating scenario, in full safety and efficiency.
d-flight intends to actively contribute to the realization of this vision by providing and enabling technologies that allow the progressive carrying out of operations in increasingly complex scenarios.