The international event dedicated to remotely piloted aircrafts - Unmanned Aircraft Systems (UAS), focuses the attention of the most important government organizations and industrial companies in the sector. Particular attention will be given to innovations and international regulations related to the future of the unmanned. The ADW program will deal, among others, with issues related to urban air mobility and digital infrastructures for U-Space.
The event will be held in virtual mode through dedicated presentations and interviews. The interventions of the speakers can be followed through a web link that will allow to interact with the participants at the end of the presentations.
D-Flight, company of the ENAV GROUP, will be there as main partner of the event through numerous initiatives including a intervention of the CEO, Cristiano Baldoni, which will happen live on 1 December, inaugural day of the event.
The access to a custom Virtual Platform , the possibility of B2B and business meetings interaction through web links with potential customers and invited guests, will be an important one occasion of visibility and networking in which the strategic and operational objectives of the D-Flight company will be shared.
Between over 100 worldwide worldwide speaker and accredited delegates this year, representatives of the main companies and international organizations that will take part in the event which include NATS, Thales, Boeing, Airmap, EASA, Airbus, CANSO, ESA.
ADW website: https://www.amsterdamdroneweek.com/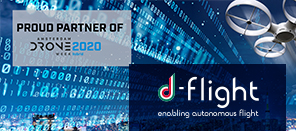 What's your reaction?
0
Smile
0
Angry
1
Wow
0
Sad
0
Lol
0
Wtf